>> Racing with RaceSport - a brief history
RaceSport has been involved in motorsport for many years, here are the highlights:
28 Years British Touring Car experience


Famous for big Yanks in the 70's winning races including Hockenheim, also hiring the Ford Falcon and Boss Mustang to Ford Belgium for Jackie Ickx who raced and won at Spa Francorchamps.
Five seasons of Formula 5000 and Formula One including racing the M23 McLaren - ex James Hunt car.
Probably remembered most for the Black Rover Vitesse in the British Touring Car Championship in the 1980's, winning races and setting lap records against drivers such as Andy Rouse and Tim Harvey.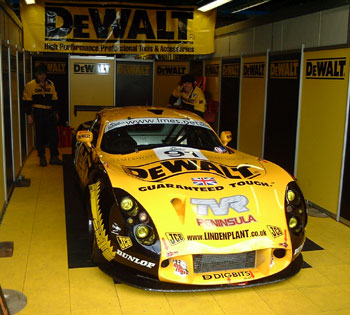 T400R ready to race at Monza in the LMES
Next came the RS 500 and 2 litre naturally aspirated Cosworth, before returning to the big love namely V8's! - Racing a first generation Chevrolet Camaro in the Classic Touring Car Championship TOCA package producing wins and lap records.
Throughout the 90's and until present the team has run cars in the TVR Tuscan Challenge with many good results.
In 2001 the team started running the first TVR TuscanR in the British GT Championship resulting in numerous podium positions and finishing the season 4th. This success continued in the years that followed.
For 2004 the TuscanR (now re-named T400R) was converted to ACO specifications (no mean feat) in order to contest the Le Mans Endurance Series, 4 grueling 6 hour 1000km races throughout Europe. It was a great achievement to finish all four 1000km races scoring points in several rounds.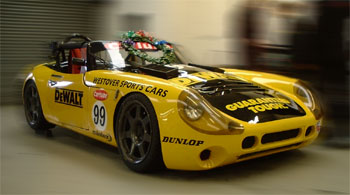 Tuscan Challenge car after 2004 Silverstone win